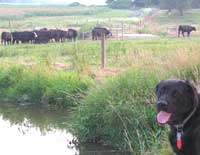 Our beef is raised on None Such Farm and are fed 100% Non-GMO feed. We feed the steer corn, barley, hay, and corn silage that are all grown on our farm.
The steer come from the hills of Virginia and West Virginia right to our pastures. They are less than one year old when they come here and are consumed before they reach two years old.
We are committed to raising the highest quality beef with no growth hormones added. We are also certified beef producers by the Pennsylvania Beef Council.
Our full service deli features Boars Head Meat's and Cheese's. Fresh prepared salads, dips, salsa and delicious entrees to go. CLICK HERE FOR OUR SANDWICH MENU