The name None Such Farm predates the Yerkes family's ownership of the farm. Perhaps it was given the name after the time when large tracts of land were split off from original land grants under William Penn. We were told that there is a None Such Castle near Buckingham, England. (Coincidence?)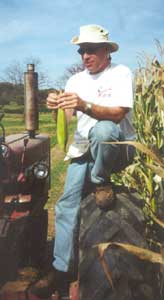 In the early 1900's the farm was owned by a series of absentee owners and had fallen on hard times. In 1926 William H. Yerkes Jr. came to the farm in Buckingham as a tenant farmer after leaving his father's farm in South Hampton, Pa. He brought his wife Elizabeth to the three story Victorian farmhouse that was being used to store grain and began restoring it to its former beauty. William was able to purchase the farm in 1932. Hard times had fallen and he almost lost the farm, but the local banker told him to make his payments when he was able. William Jr. and Elizabeth raised four children on None Such. Two sons, William III and John, stayed on the farm and followed in their father's footsteps by becoming Master Farmers in 1983 as their father had done before them.
For over fifty years the Yerkes farm supplied sweet corn for the wholesale market in Philadelphia. At one point, over 400 acres were in sweet corn production. "None Such" became a trademark for quality. In the late 70's the wholesale sweet corm market was changing. Better varieties were being introduced which meant that corn could be picked and stored in refrigeration for longer periods of time. This enabled sweet corn to be shipped longer distances. This, along with loosing rented ground that the corn was grown on due to development pressure, necessitated a change. In 1978, after their father had passed away, Bill and John decided to build a Farm market. Soon after the Market opened they stopped all wholesale production of sweet corn.

The Market has doubled in size since 1978 and in 2000 a Meat Shop was added to sell our own farm raised beef along with a kitchen for making high quality ready to go food. In 2003 we added a deli with Boar's Head meats and cheese. We still do what we have always done, raise the best sweet corn possible along with many fruits, vegetables, and flowers for our loyal customers.
In 1998 one of the biggest decisions the Yerkes family has had to make to date was weather or not to preserve the land. John had fallen ill and had not been active in the farm for years. Bill had been running the farm and market and was looking forward to retirement in the near future. Offers to purchase the land were pouring in and some were fairly attractive. The heritage and legacy had to live on. John's two sons, Jon and Scott along with Leslie, John's wife, made the commitment to stay and the decision to preserve the land had been reached. Now, Leslie, Jon, and Scott Yerkes own the 217-acre farm in Buckingham.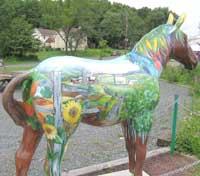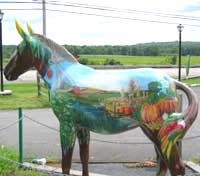 It is the intent of the family to continue the farming tradition with hopes that the next generation will be able to keep the farm alive. We believe that William Jr. would be proud that the land has made it to the 3rd generation, which is quite a feat these days.
Written by Scott Yerkes
Click here for Conservation & Safety on the Farm